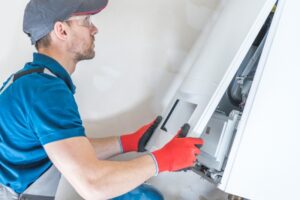 A number of homeowners in our area choose an electric furnace over a gas-powered system due to their convenience and flexibility. After all, practically all homes are wired for electricity, so electric furnaces are a reliable option for any homeowner. They're also a bit safer than gas furnaces since there are no hazards from toxic or combustible gases. That's not to say that gas furnaces are inherently dangerous–just that this is a reason that many homeowners choose an electric furnace!
Electric furnaces do tend to be less cost-efficient when it comes to month-to-month utility bills, but their current technology is far superior to what it once was, making electricity a competitive option for reduced energy use. The biggest benefit of an electric furnace as your home heating choice is its longevity and durability. Typically, an electric furnace can last up to 10 years longer than a gas furnace and need fewer repairs over the years.
However, this doesn't mean they don't need service! Just like a gas furnace, an electric furnace needs careful professional maintenance to prevent repair needs and keep the system running smoothly for the years to come. Read on to learn why!