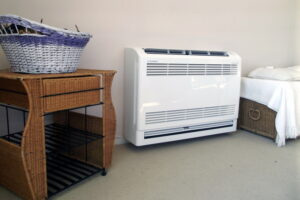 The short answer to the question of whether your heat pump needs fall and spring maintenance is, "yes."
But not to worry, we're going to elaborate. We would never just tell you to schedule an unnecessary service for the sake of it. Biannual heat pump maintenance is necessary.
You see, heat pump systems—as you know if you have one—are 2-in-1 heating and cooling systems. Not only do they provide effective heat in the wintertime, but they offer efficient air conditioning in the summer, as well.
HVAC maintenance is what allows our technicians to fully inspect, clean, and adjust your air conditioner in the spring, and your heater in the fall. This allows them to both operate as effectively and efficiently as possible, for as long as possible. But this doesn't mean you get to skip a maintenance session if you have a heat pump! Since it does twice the work, it needs twice the care. Read on as we uncover more about the importance of professional heat pump maintenance and how it can prevent sudden and costly Oradell, NJ heating repair needs.