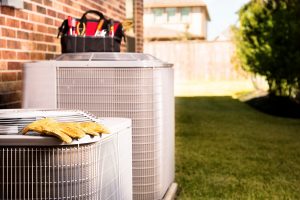 You've probably been using your heat pump in heating mode for several weeks now, since the weather has started to cool off. Before we get too far into the heating season, though, it's important that you make sure that your heat pump is ready for the added demand. There are a number of ways that you can go about preparing your heat pump for the winter season, but none is as effective as scheduling preventive maintenance. This is a good thing to do, even if you have already scheduled preventive maintenance earlier in the year.
The Benefits of Maintenance
The reason why preventive maintenance is so beneficial is that it allows your technician to catch problems before they become too much of an issue. Most problems with heat pumps develop slowly, and don't show symptoms until they're pretty far along. That's not a great thing for you, since you probably want to catch issues before they start causing havoc with your heat pump.
During a preventive maintenance appointment, your technician will find any and all areas of the system that are experiencing issues. Those issues can be resolved quickly, mitigating a lot of potential damage and saving you money. Heat pumps that receive preventive maintenance often enough have been shown to operate up to 40% more efficiently than systems that do not. They have also been shown to be up to 90% less likely to develop problems in the future. If you want those benefits, though, you need to make sure that you schedule it often enough. That means doing it twice a year.
Why Twice a Year?
With most climate control systems, one preventive maintenance appointment a year is sufficient to keep them in good shape. This is because most heaters and air conditioners only have one season out of the year when they're placed under an increased amount of stress. As such, they only need one maintenance appointment each year to cope with the added strain. Heat pumps are a bit different, though.
Because a heat pump is used as both a heater and air conditioner throughout the year, it accumulates wear and tear at twice the rate of other systems. That means that if you want to get the same benefits that other systems get from preventive maintenance, you're going to need to schedule it twice as often.
Of course, it's better to schedule maintenance once a year than not to do it at all. If you're interested in reaping the maximum benefits of preventive maintenance, though, you should be doing it once during spring and once during fall. Scheduling maintenance the season before the system is expected to be put under added demand will help to ensure that it's properly prepared for the summer and winter seasons.
DB Heating & Cooling, Inc. provides comprehensive heat pump maintenance services in Bergen County, NJ. If you need to schedule maintenance for your heat pump, contact us today for an appointment. We'll make sure your heat pump is ready for winter.