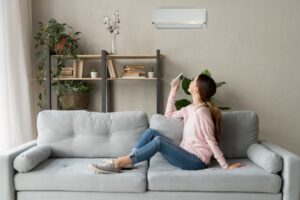 Perhaps you've heard of a ductless system before, but don't quite know what it is or why it's so different from a standard HVAC system.
For starters, it's a heat pump system which makes it a singular alternative to owning both an air conditioner and a heater—making it a great option when you have an outdated or malfunctioning heater and air conditioner to replace.
Ductless heat pump systems are great for keeping homes warm in the winter and cool in the summer. But is this the right system for your home?
Choosing the right HVAC systems for your household can seem daunting, especially since there are many fantastic options to choose from. Our best advice is to talk to a professional before making any final decisions. After all, not all homes are created equal and a ductless system may not be the best choice for your specific living space. But for many, it's a very worthwhile investment. Read on to learn more!