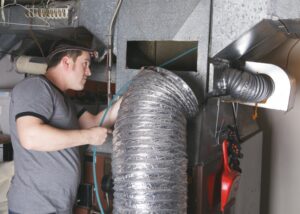 Are you utilizing a gas-powered heating system in your home? Well, then there is at least one safety risk that you really need to know about. Now, this isn't to say that gas furnaces are automatically dangerous by nature… they aren't. However, there is a component within your gas-powered system that could be harmful if ignored for too long–and this is the heat exchanger.
Like any other big or powerful piece of equipment or appliance that produces combustion gas, your furnace could potentially create hazards if it is not routinely maintained or repaired as soon as troubling symptoms appear.
Now, if you have a newer furnace you likely won't deal with a cracked heat exchanger. This is a problem that usually afflicts aging furnaces. And when we say aging, we're talking about 10-15 years old. This is the average lifespan for a well-maintained furnace system. Read on to learn more!