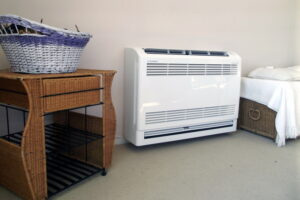 The short answer to the question of whether your heat pump needs fall and spring maintenance is, "yes."
But not to worry, we're going to elaborate. We would never just tell you to schedule an unnecessary service for the sake of it. Biannual heat pump maintenance is necessary.
You see, heat pump systems—as you know if you have one—are 2-in-1 heating and cooling systems. Not only do they provide effective heat in the wintertime, but they offer efficient air conditioning in the summer, as well.
HVAC maintenance is what allows our technicians to fully inspect, clean, and adjust your air conditioner in the spring, and your heater in the fall. This allows them to both operate as effectively and efficiently as possible, for as long as possible. But this doesn't mean you get to skip a maintenance session if you have a heat pump! Since it does twice the work, it needs twice the care. Read on as we uncover more about the importance of professional heat pump maintenance and how it can prevent sudden and costly Oradell, NJ heating repair needs.
Heat Pump Maintenance Prevents Repairs
Maintenance can help prevent up to 85% of the repair needs an HVAC system may ever need in its lifespan. This is because during your tune-up and inspection every 6 months, we look at areas of weakness within your heat pump system. It may be that a refrigerant leak has started, or that you have worn down motor bearings that need lubrication.
These are small repair needs that are a natural part of wear and tear, and we can repair them right away. But if you let these small repair needs go neglected, they can turn into much bigger, emergency repair needs, and potentially even a heater breakdown.
Heat Pump Maintenance Helps Your System Last Longer
Since you won't be neglecting repair needs, and helping your heat pump operate more efficiently, your heat pump system can last longer. Depending on the manufacturer and type of HVAC system, most units can last about 10-15 years when well-maintained. Otherwise, you can expect that lifespan to be cut in half.
Heat Pump Maintenance Helps Efficiency
As we just mentioned, maintenance helps your heat pump operate more efficiently. When it doesn't have repair needs and when it is as clean as possible, that allows it to function as it should. It won't have to run longer to meet your heating or your cooling needs, therefore operating more efficiently and costing you a lot less than it otherwise would over the lifespan of the system.
Ask About Our Premier Comfort Agreement
In addition to lowered energy bills, extended equipment life, and reduced repairs, maintenance through our Premier Comfort Agreement affords customers a number of benefits. This includes priority scheduling for maintenance customers, 24-hour emergency services, inflation protection, no overtime charges, and much more. Please don't hesitate to reach out to our team to learn more!
DB Heating & Cooling, Inc serves the heating and cooling needs of customers throughout Rockland County, NY as well as Bergen County, NJ and surrounding communities. You can count on us for expert services. Contact us today!