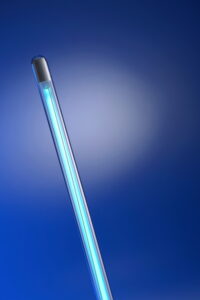 It would be really easy for us to say, "yes! Every homeowner should have a UV air purifier installed if they don't already have one." But don't worry, we know you deserve a bit more of an explanation than this.
The thing is, there are many factors that can have a negative impact on your indoor air quality, and there are a number of products and services that can help improve your situation.
The fact is, indoor air quality (IAQ) is a concern no matter what time of the year it is. In fact, many people don't realize that without the right air quality products in place, their indoor air can actually be more polluted than the outdoor air. One of the many systems homeowners invest in to combat this is a UV air purifier. Read on to learn more!
What an Air Purifier Does
You likely already know that at the very basic definition, an air purifier is meant to clean the air that circulates through your HVAC system and into your home. Instead of using a simple fiber mesh to trap pollutants, like an air filter does, the typical air purifier draws particles from the air.
The most common type of air purification systems, that you've probably heard of before, are ionization and electronic air purifiers. They charge unwanted particles and draw them down into the system, where they can later be cleaned off. However, this is not effective against all the contaminants that can enter your airstream, namely mold and mildew. For this, you need a UV air purifier.
UV lights or UV germicidal lights, is another name for a UV air purifier, and it is a set of lamps that send out low-frequency UV radiation. This is the same type of ultraviolet radiation that comes from the sun, however, while it's harmful to the cells of organic tissue, it is harmless to people and pets.
No, UV Lights are Not Dangerous
UV radiation can absolutely be harmful to people, so we understand the misconception that having UV lights in your home could be a potential threat. But the fact is that the level of UV radiation that's in this IAQ system doesn't create any health concerns for your household. In fact, you won't even see these lights since they can be installed directly into the ductwork.
UV lights are powerful, though, at killing microbes and other microscopic organic pollutants that move through your air ducts. This means that any microorganisms that are inside your ductwork that can enter your living space will be effectively eliminated.
It's important to remember, that just like any other indoor air quality product, in order to be able to rely on its effectiveness, it should be professionally installed by an experienced and highly trained professional. We can make recommendations based on your home's individual needs. You may even find that your household will benefit from a combination of indoor air quality solutions. You can rely on our team of IAQ exerts to set up your home with the right systems to keep you comfortable and healthy.
DB Heating & Cooling, Inc serves the heating and cooling needs of customers throughout Rockland County, NY as well as Bergen County, NJ and surrounding communities. You can count on us for expert services. Contact us today for quality Westwood, NJ air purifier services.