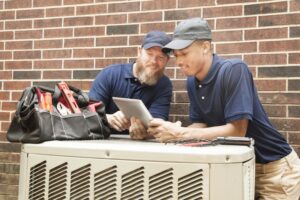 If you've been following our blog for a while, then you already know how much we talk about maintenance. Maintenance is probably the most important service you can get for your air conditioner after all! This is because it helps us help you prevent problems before they become big emergencies or even complete system breakdowns.
Air conditioning maintenance, also referred to as a tune-up, allows our professionals to locate small problems with your cooling system before it grows into a bigger one, like we mentioned above. As a result, your system will operate smoother and last longer, which is fantastic news for your wallet. But what do our technicians actually do during maintenance? Why is it so helpful?
What Happens During Air Conditioning Maintenance
Keep in mind, we're not sharing this information because we think you should try to complete maintenance on your own. In fact, we don't recommend this at all. The only maintenance tasks that should ever be conducted by the homeowners themselves is changing the air filter and cleaning around the outside unit of the air conditioner—both of these tasks help ensure that airflow isn't blocked.
Everything else though should be left to the pros. Our professional HVAC technicians have the proper licensing and training to deal with all the components of an air conditioner—some of which could potentially be harmful if not handled correctly (like refrigerant, for example). During your professional air conditioning maintenance appointment, our prose will check:
Your evaporator and condenser coils to make sure nothing is obstructed and that they're both clean so they can absorb and release heat.
The refrigerant level to make sure it did not drop. If your refrigerant level drops, it means you have a leak in the system. The leak area must be repaired and refrigerant must be recharged (refilled) to get your air conditioner back in working order.
The electrical connections—we will tighten and replace where necessary.
The condensate drain and pan. We want to makes sure that moisture from the evaporator coils doesn't overflow them, as this can lead to property damage.
The fan and compressor motors. We'll ensure that they are clean and properly lubricated in order to avoid mechanical stress that can lead to equipment burnout.
The thermostat. We'll see that it is correcting reading the temperature, and we will recalibrate it if not.
Your air filter. This is something you should be checking and changing every 1-3 months, depending on the type of filter it is. But our technicians will still check and make sure it doesn't need to be cleaned or changed, and that you're using an appropriate air filter for your specific AC system.
Without proper professional maintenance, your air conditioner can suffer from inefficient operation, increased repair needs, and a shortened lifespan. We would like to help you avoid this!
DB Heating & Cooling, Inc serves the heating and cooling needs of customers throughout Rockland County, NY as well as Bergen County, NJ and surrounding communities. You can count on us for expert services. Contact us today to schedule maintenance for your air conditioning in Oradell, NJ.