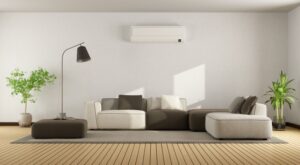 Spring is here, with summer not too far behind. If you were considering replacing your aging air conditioner, we have a great option for you—a ductless air conditioner!
You've probably seen one before, even if you didn't know what it was called. Their air handlers are seen in many hotels and even Dr. offices these days—typically mounted up high up on a wall and looking like a sleeker version of a window unit. They're also called ductless heat pumps because they operation on the same technology. That is, they not only cool but they also heat. Read on as we uncover some of the top benefits of installing a ductless air conditioner in your home!
It's a Ductless Heater, Too
As we just mentioned above, ductless systems can both cool and heat your home. This is because they operate on heat pump technology. In the summertime you can have your thermostat on "cooling mode" and then with a simple flip of a switch when the weather turns chillier, the refrigerant flow will switch thanks to a component called the reversing valve.
What's so great about this is that in heating mode, ductless systems are much more efficient than traditional furnaces. This is because instead of generating heat, ductless heat pumps transfer heat.
It's a Zone Control System
You might have heard of a zone control system before. In the traditional sense, this is a central air conditioner or furnace with dampers installed within the ducts to separate your home into zones. So if there are some rooms you don't want cooled, they don't have to be.
Ductless systems take this concept a couple steps further. Not only can your home be separated into zone using the indoor air handlers, but each of those indoor air handlers can be independently controlled. This means you could set each room to a different temperature for personalized and customized comfort throughout your living space.
It Saves Energy
Because it's a zone control system, the ductless system is able to save energy, and subsequently help you save money. This isn't the only way a ductless air conditioner (and heater) saves energy, though!
Ductless systems use smaller motors than conventional heat pumps or air conditioners, which means they consume less power. The lack of ductwork also boosts energy efficiency, since there is no energy lost through leaks or tears in the ducts.
It's Flexible
Ductless systems have become increasingly popular for new home construction as well as remodeling, since they remove the hassle of trying to fit ductwork into the space. This makes them an ideal option for older homes that may not have extra space for more ductwork, or may have been built without HVAC compatibility in mind.
DB Heating & Cooling, Inc serves the heating and cooling needs of customers throughout Rockland County, NY as well as Bergen County, NJ and surrounding communities. You can count on us for expert services. Contact us today to learn more about ductless air conditioning in Emerson, NJ!