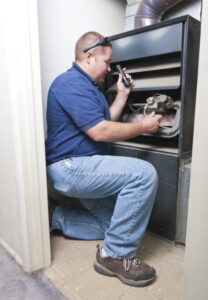 The last thing any New Jersey homeowner needs in the middle of winter is a heating system that's malfunctioning, right?
If you've come upon this blog post, however, and you want to know how to install a furnace, chances are you need heat now. Unfortunately, though, this really isn't a purchase or a job you want to rush into.
In fact, we're not even sharing these steps with you so that you can do the furnace installation job yourself. This could actually do more harm than good, and can be unsafe–especially if it is a gas-powered furnace we're talking about. We're sharing these tips so that you can see just how important it is to only trust a trained, experienced, and licensed professional to complete your furnace installation.
Step 1: We Take the Old Heater Out
This probably sounds like a pretty simple step to you. But, you might be surprised to find out that this is actually the most tedious part of the process. In fact, in most cases, it's the longest part of the process.
It's not just a matter of simply pulling out the old heating system. If your old furnace is already connected to your gas lines, our technicians will need to ensure that nothing is knocked out of place or damaged when we remove the system.
We'll also need to check that your new furnace is appropriately sized for the space where it's being installed. No, we don't just mean that your furnace has to physically fit–we have to make sure that it's not either underpowered or even overpowered.
This requires that our team does a heat load calculation. Without this, you can be stuck with a highly inefficient heating system.
Step 2: We Make the Appropriate Connections
Once your new furnace is installed–and typically this means bolting the system to the floor–our techs will connect the furnace to the component needed for operation. This includes, first, the air duct of your ventilation system.
Ductwork has to be hooked up to your furnace the right way to avoid damage. Plus, the ducts will typically need to be adjusted and shifted during the process, which is where mistakes can happen if not done correctly.
The next component of this step is hooking the furnace to its power source. There is your safety to consider here, as we alluded to above. Any connections to your gas lines require an experienced and specially licensed technician to handle.
Lastly, we connect the system to the wiring, and even gas-powered furnaces have electrical components. There is a potential for fire danger if this step isn't done right–so it's easy to see why you should only trust a professional.
Step 3: We Test the System
We aren't just going to stick your furnace in and leave! We're going to make sure it works properly, as it should. If it doesn't, we're not going to leave until it's operating sufficiently.
DB Heating & Cooling, Inc serves the heating and cooling needs of customers throughout Rockland County, NY as well as Bergen County, NJ and surrounding communities. You can count on us for expert furnace service in Waldwick, NJ and more. Contact us today!