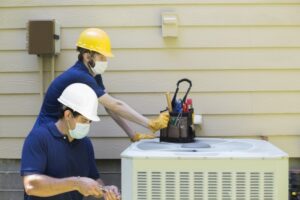 With daytime temperatures still in the high 50s for now, it may seem strange to be mentioning air conditioning maintenance. Perhaps you even think that it's way too early for this service. But the truth is, now is a perfect time!
Let's face it, you know as well as we do that our variable weather can surprise us. Sure, it's cold and dreary one day, but the next can be the start of a weeklong heatwave… and don't you want to know that your air conditioner is well prepared for the change of seasons?
With routine annual maintenance (biannual, if you have a heat pump system) you can help ensure that your air conditioner operates as efficiently and effectively as possible, for as long as possible. Read on to learn more about this important service!
Fewer Repair Needs
Nobody wants to interrupt their own summer plans to call in a technician to come repair an air conditioning system, right? Well, scheduling preemptive maintenance can actually help you avoid up to 85% of the repair needs your air conditioner could ever need! It does this by allowing us to catch small, "wear and tear" problems before they have a chance to grow into much bigger repair needs.
Peace of Mind
This could arguably be the biggest benefit of routine, professional air conditioning maintenance. Think about your car… the more mileage you put on it the more likely it is to break down, unless you're having it regularly serviced. There's no difference when it comes to your air conditioner. When you want to be able to rely on an important piece of equipment, you've got to have it regularly serviced!
Improved Energy Efficiency
For every year that your air conditioner goes without maintenance, it loses about 5% of its original efficiency rating. On the contrary, by having maintenance done, you can help the system retain about 95% of its original efficiency rating, or SEER (Seasonal Energy Efficiency Ratio).
Longer Equipment Life
No air conditioner will last forever. It's eventually going to need to be replaced. However, if you stay on top of your spring maintenance every year, you can expect your air conditioner to last up to, and maybe even beyond, 10-15 years of useful service life. Past this point, it will start to succumb to wear and tear and become less efficient, but maintenance will definitely slow down that process.
Warranty Protection
The manufacturer's warranty on your cooling system protects you financially in case the air conditioner breaks down or malfunctions due to a manufacturing defect. While rare, this does happen! And most warranties protect you for about 10 years.
But if you skip maintenance or try to do repairs on your own, you can actually void out that warranty. By scheduling this service with our team and signing up for one of our maintenance plans, you can avoid this and protect your warranty for as long as it's meant to last.
For professional maintenance on your HVAC system in Oradell, NJ, contact DB Heating & Cooling, Inc.