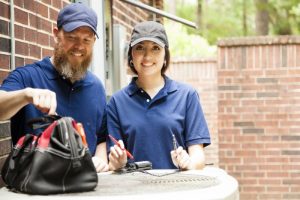 Do you know what it takes to keep your air conditioner running as best it can, while also keeping your energy bills low and not sacrificing comfort? There are a number of factors that play a role in this, actually. Professional installation is vital, first off. Only a professional will know how to adequately size a new system for your home, and properly install it so you don't have any operational problems right away.
Of course, if you do have a problem, you can contact our team for reliable AC services in Bergen County, NJ. But we'd also like to help you avoid expensive AC repair needs and costly cooling bills, if possible. So how exactly can you keep your AC performing at its best? Read on!
Schedule Maintenance
If you haven't done so already, now is the time to schedule your next tune-up. Air conditioning maintenance allows our technicians to thoroughly inspect your cooling system. We check for components that need adjusting, comprehensively clean the system, and alert you to repair needs so you can get them managed before they grow into bigger emergencies.
All of this helps your system work more efficiently and effectively throughout its lifespan. Additionally, maintenance makes sure your system lasts throughout its intended lifespan, and can prevent up to 85% of the repairs you may ever need throughout that time.
Boost Efficiency
One way to ensure the efficiency of your air conditioner is by scheduling annual maintenance—or biannual if we're talking about a year-round heat pump system. But there are other steps you can take as well, such as:
Keeping curtains closed on south-facing windows: This keeps the ambient heat from the sun out, so that you can turn your thermostat up a couple of degrees and allow your cooling system some reprieve.
Use your ceiling fans. By using your ceiling fans in whatever room you're in, you can help better distribute the cooled air coming from your AC. Like the tip above, this helps you feel cooler and therefore you can turn your thermostat up, allowing the AC compressor to get a break.
Make sure your thermostat is in a good place. An improperly installed thermostat can make a huge difference. If it's in an area where the sun shines in, it may turn on long before you need it. Conversely, if it's in the coolest part of your home it might take too long for it to signal your AC to start, increasing your discomfort.
Clean around the outside unit and vents. Check around your air conditioner's outdoor unit. Is it surrounded by lawn mulch, leaves, grass clippings, and other debris? If so, this can block the airflow and start causing a number of problems for your air conditioner, and for your comfort.
DB Heating & Cooling, Inc serves the heating and cooling needs of customers throughout Rockland County, NY as well as Bergen County, NJ and surrounding communities. You can count on us for expert services. Contact us today!