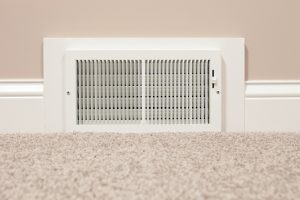 When folks hear the term "indoor air quality," they often think about the temperature of their living space. This is certainly part of good indoor air quality, but not all of it! If you've lived in this area for even just a year, you know that humidity is a problem. Your air conditioner does have some dehumidification properties, but not enough to truly make a difference.
A whole-house dehumidifier, however, can successfully remove excess moisture from the air, benefiting your comfort and the air conditioner itself. Read on as we uncover the problems associated with high humidity, and how a professionally installed dehumidifier will help.
The Problems with High Humidity
The way we naturally cool off is by sweating. That sweat evaporates off our skin and lowers our body temperature at the same time. When the relative humidity level in your home rises above 50%, the amount of ambient moisture in the air prevents you from sweating at all. This leads to a clammy, uncomfortable feeling.
What's more is that it prevents you from cooling down, so the air feels hotter than it actually is. This, in turn, puts more strain on your air conditioner, which has to run longer and essentially work harder to keep you cool, using up more energy in the process. High humidity levels also encourage the growth of mold and bacteria in the home which is certainly unsanitary and can be very unhealthy too.
The Power of a Whole-Home Dehumidifier
Whole-house dehumidifiers work similarly to air conditioners, since lowering the temperature of the air is the best way to remove moisture from it. As the air cools, ambient moisture coalesces into liquid form and is removed from the air as droplets. This is why dew appears on the ground in the cool early hours of the morning.
As we mentioned above, air conditioners do act as dehumidifiers by default, but because they aren't set up to perform such services, they don't do an adequate job. Whole-house dehumidifiers don't need to vent hot air like air conditioners do, so they have much larger condensate and drain systems. Additionally, dehumidifiers can be adjusted so you can set humidity levels to your personal preference, which is something a standard air conditioner simply cannot do.
When humidity levels are low enough, you're able to lower the thermostat settings on your air conditioner, which means it won't run as long and as a result you'll have lower monthly cooling bills. As an added bonus, the individual components of your AC system will be subjected to far less wear and tear, which helps the cooling system last longer before requiring repair.
As long as it is professionally installed and serviced, a whole-house dehumidifier will offer you a whole host of benefits. Please reach out to our team to learn more.
DB Heating & Cooling, Inc serves the heating and cooling needs of customers throughout Rockland County, NY as well as Bergen County, NJ and surrounding communities. You can count on us for expert HVAC and indoor air quality services. Contact us today!