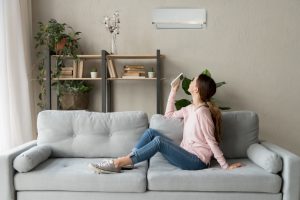 If you're at all familiar with air conditioning maintenance schedules, which we hope you are if you've had a cooling system for at least a year, then you know that the typical schedule we recommend is that you have a tune-up each year. The reason for this is that the system needs annual cleaning and adjusting, as well as an inspection to check for repair needs.
This might lead you to believe that if you have a ductless system, also referred to as a mini-split, you don't need to schedule spring maintenance for it, since you just had maintenance in the fall before the heating season started! Unfortunately, this can be a costly mistake. Biannual maintenance is one of the most important ductless services in Bergen County, NJ if you're utilizing a mini-split.
The Importance of Routine Preventive Maintenance
Being proactive is essential to keeping any climate control system in good shape for as long as possible. Many of the issues that develop in AC systems and heaters start out fairly subtle, growing in severity until eventually they show symptoms—and by this point, you're probably facing a breakdown or a very large repair when that didn't need to be the case.
It's difficult to catch problems early on for the average homeowner. This is why preventive maintenance is so important—it actually helps you prevent problems from developing too much further in your system. During your maintenance appointment, our technicians closely inspect your system for issues, catching them before their progress, and making them easier (and cheaper!) to fix.
You might be surprised to find how much money you can save on repairs with routine maintenance. In fact, you could prevent up to 85% of the repair needs a system may ever need in its lifespan! Speaking of lifespan, regular maintenance also extends how long your system will actually last. A well-maintained air conditioner of any kind can typically last about 10-15 years before requiring replacement, whereas one that continually skips maintenance may only last half that time.
Twice Yearly Ductless Maintenance
The typical annual maintenance recommendation you hear for HVAC systems is based on the amount of demand they experience over the course of a year. Most air conditioners, or heaters, only have one season of high demand, and therefore only need one maintenance visit a year. But a ductless system has two seasons of high demand and therefore needs two maintenance visits a year.
Since they operate on heat pump technology, transferring heat between two sets of coils via a number of important components, they accumulate a lot of wear and tear over the years—much more than a standard air conditioner. The best schedule to follow for your ductless system maintenance is once in the fall, and once in the spring.
Haven't scheduled your spring ductless maintenance yet? It's not too late! Give us a call today.
DB Heating & Cooling, Inc serves the heating and cooling needs of customers throughout Rockland County, NY as well as Bergen County, NJ and surrounding communities. You can count on us for expert services. Contact us today!