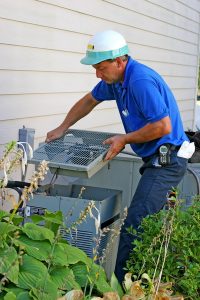 If not, there's no need to worry—it's not too late!
Summer is officially here, and soon enough you'll be using your air conditioner on nearly a 24/7 basis. Therefore, it's important that your air conditioner is ready to do its job.
Scheduling your air conditioner maintenance before temperatures get too high is the best way to do so. Of course, it's more important that you have your tune-ups done consistently (every year for central systems, every 6 months for heat pump systems) but arguable, it's best to get it done before you need the system the most. Why is this so important? Read on!
Ensure Great AC Efficiency
Waiting to schedule your AC maintenance could leave you with a broken down air conditioner right when you need it the most, leaving you in discomfort and with a hurting wallet. Plus, the middle of summer is definitely not a convenient time to schedule service, since HVAC pros are getting all sorts of AC emergency calls during this time of the year.
During your tune-up, our HVAC professionals will make minor adjustments to ensure that your system performs as efficiently as possible. In fact, it's estimated that your air conditioner loses 5% of its efficiency every year that it misses a tune-up. Routinely scheduled maintenance can keep your system operating up to 95% of its initial energy efficiency.
Improve Reliability and Comfort
The last thing you need during a scorching summer is a malfunctioning air conditioner. A broken-down system could leave you feeling quite uncomfortable, particularly when temperatures soar well into the 90s. This is why it's vital to be proactive and schedule your AC maintenance ASAP.
Pre-season AC tune-ups ensure that your system is reliable, able to get you through even the worst heatwave. There's no reason to sacrifice your comfort due to a faulty AC.
Save Time
Far too many individuals wait until the last minute to schedule their annual AC tune-up. This leaves HVAC pros scrambling to answer dozens of service calls all at once. Sure, this may be great for our business, but it's terrible for your quality of life! When you schedule maintenance at a time that's convenient for you, you'll have the peace of mind that your system will get checked and will keep you cool all summer long.
Another bonus is that if your HVAC technician discovers you have a repair need, you can take care of that on your schedule as well, instead of waiting for the component to completely fail.
Trust the Professionals
Be sure that when you schedule your cooling maintenance, you only do so with trained professionals. We have the knowledge, training, and experience to ensure that your cooling system is working safely, and correctly. Your other option is to trust an amateur, who can make a mistake and cause you to need a professional repair call anyway.
DB Heating & Cooling, Inc serves the heating and cooling needs of customers throughout Rockland County, NY as well as Bergen County, NJ and surrounding communities. Contact us today for reliable air conditioning repair in Bergen County, NJ.