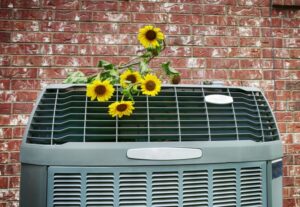 April is the best month to arrange for your regular air conditioning maintenance appointment.
What's that? You didn't know your AC needed an annual maintenance appointment? We're glad we caught your attention then, because this is one of the most important services you can have done for your HVAC system specifically and your home comfort in general.
Thanks to regular AC maintenance, you'll have a cooling system that works better and at higher energy efficiency. Regular maintenance also prevents many aggravating hassles you might run into when trying to keep your home cooled down. We'll take a look at how maintenance stops these various problems.
Fewer repair issues
Here's a fact to keep in mind each spring when it's time for maintenance: the majority of repairs an AC may need during its service life are due to lack of maintenance. That means if you keep up with maintenance, you'll preemptively abolish more than 50% of air conditioning repairs in Bergen County, NY. 
During maintenance, technicians make careful inspections to locate potential small problems that can be quickly resolved before they turn into major repair issues later. The tune-up steps, such as lubricating all moving parts, tightening electrical connections, washing the coils, and cleaning the condensate pan contribute to eliminating most future repairs.
No need to replace the AC early
You can't stop an air conditioning system from picking up wear and tear over its service life, but you can significantly slow down its aging with maintenance. Regular cleanings and adjustments, as well as checks on refrigerant pressure and amperage, keep the strain of operation from taking too quick a toll. 
How much of a difference does maintenance make for service life? You can expect a well-maintained air conditioner to last for 10 to 15 years. A poorly maintained air conditioner may only reach half that lifespan—and you'll end up with an expensive early AC replacement.
Less chance of an abrupt AC failure
The biggest hassle you can encounter with your air conditioner during the summer is to have it stop working or not even turn on when you need it the most. You'll be trapped in a hot home as you wait for repair technicians to get to you. (We offer emergency AC repair service, but we can't be to you instantly, and on a hot day many people will need emergency repairs.) Air conditioning inspections and tune-ups do the best job of "armoring" an AC for the rigors of the summer, and technicians will uncover any looming issue that might lead to a system breakdown before the hot weather so it can be fixed at a convenient time.
If you'd like to have a relaxing summer and not have to worry about an AC that's making your life more difficult rather than less difficult, reach out to us today and schedule maintenance. We have convenient maintenance programs to make the job even easier for you.
DB Heating & Cooling, Inc serves the heating and cooling needs of customers throughout Rockland County, NY as well as Bergen County, NJ and surrounding communities. You can count on us for expert services. Contact us today!