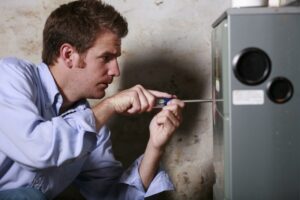 When March arrives, it means the end of winter is finally in sight. But that doesn't mean the cold weather immediately stops. After all, April frequently contains sudden cold surprises, and even June can be gloomy.
So, although you may already have exciting plans for the coming balmy weather, it's not yet time to forget about the furnace that has warmed your home through the winter. If your furnace starts to falter or show warning signs something is wrong with it, please don't ignore it because of the month. Putting off furnace repairs at any time of the year can bring major problems.
Reasons to Stay On Top of Furnace Repairs
There are several good reasons to never delay any furnace repairs after you notice symptoms of a malfunction:
Safety: Natural gas furnaces aren't inherently unsafe. They have numerous safety features built into them, which is why they're allowed in so many homes. But a faulty furnace is at a higher risk of those safety features failing, leading to potential dangers from toxic gas exposure, flame roll-out, and explosions. A furnace kept in good repair is a much safer furnace, so don't delay with the fixes no matter how small the issue may seem.
Reliability: We mentioned those surprise cold waves of April. You don't want one of those to catch you off guard when your furnace refuses to cooperate. But that's the big chance you take if you let furnace problems go unaddressed. 
Energy Efficiency: Most furnace malfunctions will affect the heater's energy efficiency, making it more expensive to run. You'll end up paying more for the last few months of home heating than you should.
Longevity: The strain a malfunctions place on a furnace will cause the furnace to age faster. The longer you let the furnace operate without repairs, the shorter the service life it will have.
Costlier Repairs: Almost any furnace problem will worsen over time, and it will often trigger several other issues because of the increased stress placed on other components. For example, leaking refrigerant will eventually cause the compressor to overheat and burn out. The sooner you have repairs done, the less expensive they're likely to be.
Watch Out for a Completely Failing Furnace
If your furnace is more than 15 years old, we strongly recommend considering a full replacement if it shows signs of problems. The average service life of natural gas furnaces is 15 years, so this is the point when it's more cost-effective to put in a new furnace rather than spend further money on repairs.
It's not hard to get quality furnace service in Bergen County, NJ, whether it's a repair or replacement. You only need to call DB Heating & Cooling. We have 24-hour emergency service available, so there's no reason to delay when you've got a furnace that needs immediate help.
DB Heating & Cooling, Inc serves the heating and cooling needs of customers throughout Rockland County, NY as well as Bergen County, NJ and surrounding communities. You can count on us for expert services. Contact us today!