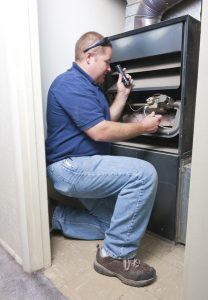 In the areas we serve, temperatures get cold. There's no denying that. And if you want your heating system to rise to the occasion of keeping you and your family comfortable all winter long, then it is essential that you schedule routine heating maintenance once a year–with fall being the best time to do so. These heating system tune-ups are more complex than most homeowners realize, and require a professional touch.
Sure, there are some small maintenance tasks you can handle on your own. For example, do you have a clogged air filter in your furnace? This is something you can and should change every 1-3 months. Doing so will prevent the interior components of your furnace form getting pummeled with debris. But for truly thorough maintenance that will make a difference in the performance and longevity of your heater, you'll want professional service. But what actually happens during this service? Read on to find out!
What Our Techs Do During Heating Maintenance
There are a lot of steps our technicians go through during your heating maintenance session. These steps will vary a bit depending on the type of system you have (for instance, a heat pump is going to require something different than a gas-powered furnace), but in general, we will:
Thoroughly inspect the system for components that need adjusting and cleaning
Lubricate all moving parts to make sure friction is kept to a minimum.
Check components such as the thermostat and controls for proper functionality.
Tighten all electrical connections.
Check for proper levels of voltage and amperage.
Assess and clean condensate drain pan and assembly if necessary.
These steps benefit not only your comfort and the longevity of your system, but also the safety of your home. While gas or oil-powered heating systems are not inherently dangerous, there is always at least a minimal risk when using a system like this. That risk increases each year you skip maintenance. You want a heater that is as safe as it is reliable, and you get that by scheduling maintenance on a regular basis.
"Okay, but do I really need professional maintenance?"
Yes. Sure, you can find videos online about how to check an HVAC system yourself, but that doesn't mean you should. Professional HVAC technicians go through years of training and experience in order to successfully and safely service heating systems. Plus, attempting maintenance on your own could not only result in injury, but can also void your manufacturer's warranty. Take a look at that warranty–there is usually a clause that if you don't have your system professionally serviced, it makes the warranty null and void. This is a frustrating issue for sure, but it's also good to know! And fortunately, you needn't look very far to get that professional maintenance. Reach out to our team today!
DB Heating & Cooling, Inc serves the heating and cooling needs of customers throughout Rockland County, NY as well as Bergen County, NJ and surrounding communities. You can count on us for expert services.
Contact us for expert heater maintenance in Oradell, NJ!