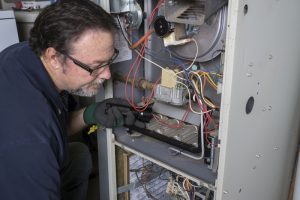 Soon enough, temperatures are going to cool down for fall, and before we know it, there will be a familiar winter chill in the air. Fortunately, you still have plenty of time to schedule your heating maintenance appointment! In fact, now is the perfect time to schedule it, since it's when HVAC professionals are less likely to be out on emergency HVAC repair calls while the weather is milder between seasons.
Whatever you do, be sure you're consistent with scheduling maintenance. If it's been more than a year since you've had a heating tune-up, then the time is now to get it done, no matter what time of the year you've come across this blog post. Why is this so important? Read on to find out!
The Benefits of Routine Professional Heating Maintenance
We really want to stress our use of the word "routine" here. Like we alluded to above, consistency is vital. If you want to enjoy the full benefits of your heating system, efficiently and cost-effectively, then maintenance needs to be an annual priority. Doing this will afford you:
Improved Safety: One of the key tasks that our technicians complete during your heating maintenance appointment is we check to ensure the system is running as safely as it should and that it doesn't need any urgent repairs. This is particularly important for gas furnaces. These types of heaters are not inherently unsafe, but anything that deals with gas has its risks, and without maintenance, your gas-powered heater can certainly become unsafe.
Maintained Energy Efficiency: No matter what kind of heater you're using in your home, it starts to lose its energy efficiency over the years. At least, that happens if you skip maintenance! Within just a few years without tune-ups, your heating system can drain 25% more power than it should. Maintenance helps your heater retain 95% of its original efficiency.
Fewer Repair Needs: Were you aware that about 85% of the repair needs a heater might ever need in its lifespan can be prevented with routine maintenance? This is because during maintenance, we catch small problems before they even have the opportunity to grow into much bigger problems. Why not save on hassles and repair costs by staying on top of your heating maintenance each year?
Extended Service Life: Speaking of lifespan, maintenance helps your heater last longer. Replacing your heater before its time is expensive, and nobody should have to do it. A well-maintained furnace should last 10-15 years, sometimes plus. But without routine maintenance, it can fail within half that time. Tune-ups often allow them to surpass the manufacturer's estimated lifespan.
Keep the Warranty in Place: Furnaces usually come with a 10-year warranty from the manufacturer, depending on the make. This means that if something goes wrong due to a design defect, you aren't financially liable for getting it fixed. But if you skip professional maintenance or attempt maintenance on your own, you can actually void that warranty, and then you're stuck paying for manufacturer defects if they occur.
DB Heating & Cooling, Inc serves the heating and cooling needs of customers throughout Rockland County, NY as well as Bergen County, NJ and surrounding communities. You can count on us for expert heating maintenance service and more. Contact us today!