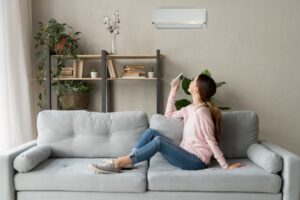 Perhaps you've heard of a ductless system before, but don't quite know what it is or why it's so different from a standard HVAC system.
For starters, it's a heat pump system which makes it a singular alternative to owning both an air conditioner and a heater—making it a great option when you have an outdated or malfunctioning heater and air conditioner to replace.
Ductless heat pump systems are great for keeping homes warm in the winter and cool in the summer. But is this the right system for your home?
Choosing the right HVAC systems for your household can seem daunting, especially since there are many fantastic options to choose from. Our best advice is to talk to a professional before making any final decisions. After all, not all homes are created equal and a ductless system may not be the best choice for your specific living space. But for many, it's a very worthwhile investment. Read on to learn more!
What's a Ductless System?
As the name suggests, a ductless system, also referred to as a ductless mini-split, is a heating and cooling system that doesn't rely on a network of air ducts. Rather, it makes use of a single outdoor condenser unit connected via a conduit to up to 4 indoor air handlers. These conduits are run through a small hole drilled in the wall and contain a power cord, condensate drain, and refrigerant line.
This heat pump type system has a component called a reversing valve, and this component is what makes it possible for the system to both heat and cool the home depending on the season and your needs.
The Benefits
Perhaps the biggest benefit of going ductless is the versatility factor. This system allows for year-round comfort. It does need to be professionally tuned-up twice a year, versus once a year like a standard AC or furnace. But with everything in one system, your repair needs and associated costs are going to be far less. Read on for some more benefits!
Convenient Installation: Installing a ventilation system for HVAC units can be difficult and expensive. So can repairing existing ductwork that's aged to the point that it has tears and leaks. Installing a ductless system is less invasive and saves space since the air handlers can be mounted up high on the wall, out of the way.
Cost-Effective: As we alluded to above, you don't have to worry about servicing two different HVAC systems. When you go ductless, you'll no longer have to repair, maintain, or replace both a heater and an air conditioner.
Energy Efficient: Ductless systems operate on less power than a furnace. This is because instead of generating heat, a ductless heat pump system transfers heat through a refrigerant process. This means it's drawing on less power to operate, and therefore saves you energy and subsequent money.
Plus, the individual air handlers can each be controlled by their own thermostat to suit the cooling and heating preferences of each individual household member or room. Have you ever been frustrated by a furnace that takes forever to heat up your living room with a pitched ceiling while your small back bedroom feels like a sauna? The ductless setup resolves this!
DB Heating & Cooling, Inc serves the heating and cooling needs of customers throughout Rockland County, NY as well as Bergen County, NJ and surrounding communities. You can count on us for expert heater service in Bergen County, NJ, and more. Contact us today!