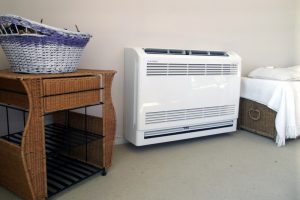 We're approaching that time of year again—the time of year where we start stressing the importance of yearly air conditioning maintenance. We'll always tell homeowners that right now is the best time to schedule that maintenance as HVAC technicians typically have less crowded schedules during the spring, when they're responding to fewer emergency calls for urgent heating repair in Bergen County, NJ.
What if you have a heat pump, though? Chances are, you hopefully had fall maintenance done for your system to ensure it would be able to get you through our chilly winter season. And we always say that HVAC systems need maintenance once a year… so you don't actually need spring maintenance on your heat pump, right?
Wrong!
Heat pumps require maintenance twice a year as they are a year-round system. Read on as we uncover just why this is so important.
An HVAC System with Two Jobs
When thinking of maintenance, try to think of it as overall "HVAC maintenance" rather than simply a cooling system tune-up or a heating system tune-up. After all, a heat pump is both. You need that heat pump to be able to handle the rigors of both peak seasons, no matter how extreme the weather.
For a home that has a traditional furnace and a separate central air conditioner, our technicians will come out for one maintenance appointment each—one for the heater and one for the cooling system. But if you have a heat pump, you're combining your heating and air conditioning in a single unit, and it's still an HVAC system that requires a check-up and tune-up—twice a year.
2-in-1 Comfort System
Heat pumps are considered 2-in-1, year-round home comfort systems. They use the same components to operate whether in heating or cooling mode. The compressor runs no matter what, circulating refrigerant through two sets of coils, indoors and outdoors. The blower fan sends cooled air into the ventilation system in the summer, and warm air in the wintertime. This is all made possible by a reversing valve that switches the direction of the refrigerant.
This means your heat pump is working all year long, and therefore must be maintained accordingly. Besides, maintenance allows us to check for problems that might have nothing to do with the actual HVAC system at all, but rather other components.
For instance, an improperly calibrated thermostat can cause your heat pump to perform inefficiently no matter the season. Damaged ductwork can let air conditioned or heated air escape into unused areas of your home, leaving you paying more for comfort you're not even receiving.
During your semi-annual heat pump maintenance, our technicians clean the interior of the system where lots of dust, dirt, and other debris and grime have built up. This is actually the #1 reason that heat pumps start operating inefficiently. Spring cleaning of the coils, motors, and other components are just as essential to quality performance as fall cleaning!
DB Heating & Cooling, Inc serves the heating and cooling needs of customers throughout Rockland County, NY as well as Bergen County, NJ and surrounding communities. You can count on us for expert services. Contact us today!