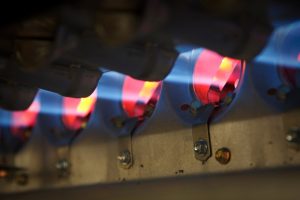 In a word, yes. But don't worry, we'll elaborate.
It's not inaccurate to say that most homes throughout the U.S. use natural gas to supply their homes with heat during colder weather, and most of these homes use a furnace for the job. Gas furnaces remain the #1 option for winter comfort—they deliver high levels of heat and don't put a huge drain on your household budget, so long as they are properly cared for!
Part of caring for a furnace is ensuring that you keep up on your annual maintenance appointments, and scheduling furnace repair in Bergen County, NJ whenever you need it. Skipping maintenance tune-ups or delaying repairs can lead to a number of problems, including a cracked heat exchanger that nobody in your home knows about—leading to potential dangers.
Why Is a Cracked Heat Exchanger Bad News?
First off, we want to say that owning a gas-powered heating system is not dangerous in and of itself—it's not properly caring for such a system that could be dangerous.
The reason a cracked heat exchanger is such a big concern is because of the health and safety hazards it presents. The heat exchanger is a metal, clam-shaped chamber inside your furnace that collects hot combustion gas from the burners. The heat from the gas transfers to the metal walls, causing the exchanger to burn hot. Then, air from the blower moves around the exchanger, picking up the heat before it passes through the ventilation system.
The leftover combustion exhaust in the exchanger is sent out a flue in order to harmlessly escape to the outside. If that heat exchanger has a crack in it, however, then toxic combustion gas—namely, carbon monoxide (CO) will enter into the air that's being blown into the rooms. This is where the health and safety concern comes in.
"I Can Have a Cracked Heat Exchanger Replaced, Right?"
Technically, yes. A cracked heat exchanger can be replaced. What you want to keep in mind, however, is that cracked heat exchangers are most common in aging furnaces—those that are 10-15 years old and have gone through a lot of natural wear and tear.
Replacing a cracked heat exchanger may be more expensive of a furnace repair than it's really worth. The constantly repeating reaction of combustion gas and metal leads to system corrosion, which weakens the exchanger and enables cracks to form. An expensive repair for a furnace this old isn't a common choice.
A good rule of thumb to follow is that any repair job that costs more than half the price of a new furnace installation isn't a great investment. You'll save more money in the long run with an upgraded furnace. And so long as you keep up on the maintenance and take care of small repair needs as soon as they crop up, you can count on that new furnace lasting you at least a decade.
DB Heating & Cooling, Inc serves the heating and cooling needs of customers throughout Rockland County, NY as well as Bergen County, NJ and surrounding communities. You can count on us for expert services. Contact us today!