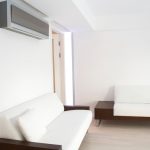 We might be in the middle of summer, but for one part of your home it's already time to start thinking about next season. We're talking about scheduling professional maintenance for your ductless system. Now, you might be thinking that's rather absurd, considering you just had a professional check out your ductless mini split a few months ago. However, there's a very good reason why you want to schedule maintenance for your ductless system at least twice a year.
The Benefits of Professional Maintenance
Way too many people still think it's a good idea to skip preventive maintenance altogether, preferring to wait until there's a specific problem to call for repairs. The issue with this is that most HVAC problems don't develop in an obvious way. Most of them go unnoticed until they've had plenty of time to wreak havoc on the system. That means that by the time you notice that your ductless system is having a problem, it might be too late to prevent a lot of the damage that problem has caused. If you want to make sure that your system is in the best possible condition, you're going to need to catch problems before they even start developing symptoms. That means scheduling preventive maintenance.
Preventive maintenance allows your technician to go over every inch of your ductless system, identifying problem areas and fixing them before they can get worse. It's estimated that systems that receive regular maintenance are up to 40% more energy efficient than systems who don't. They're also up to 90% less likely to develop problems in the future. You can save thousands of dollars on repair costs over the life of your system if you are careful about scheduling preventive maintenance. If you want to reap the benefits of scheduling preventive maintenance, though, you need to make sure that you schedule it often enough.
Bi-Annual Maintenance
For most systems, professional maintenance is only needed once a year to keep them in good shape. This is because dedicated heaters and air conditioners are only used extensively during one season out of the year (winter and summer, respectively). Ductless mini split systems are heat pumps, though, which means that they are used year-round. If you want your ductless mini split to be able to benefit from having professional maintenance, you're going to need to schedule it twice a year.
Typically, it's best to schedule maintenance for it once during spring and once during fall. That means that you should probably have it done within the next month or two. Late is better than never, though, so even if you miss the window it's a good idea to schedule maintenance anyway.
DB Heating & Cooling, Inc. provides a full range of ductless mini split maintenance services in Franklin Lakes, NJ. If you need to schedule maintenance for your ductless system, contact us today to schedule an appointment. We'll make sure that your ductless system takes good care of you all year round.