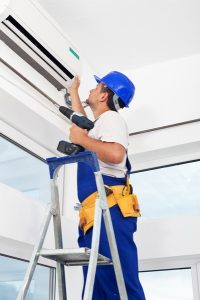 Summer is officially here. Have you been using your ductless mini split a lot? Whether you have or not, you probably will be soon. Before it gets to that point, though, you should definitely take stock of where your system is in terms of health.
The best way to do that is to schedule maintenance for it. Yes, even if you've already had maintenance done on it in the past year. Let's have a look at why ductless mini splits have different maintenance needs than other systems, and why it's so important that they have those needs met.
Why Maintenance Matters
Because we said so! But also because it goes a long way towards protecting your investment in your system. Climate control systems like ductless mini splits are not cheap, and obviously, you want to go as many years as possible before having to replace your system. Preventive maintenance helps you to get more healthy years out of your ductless mini split.
Most of the issues that affect your ductless mini split are not the kinds of things that you're likely to notice right away. In fact, if you notice anything at all out of the ordinary with your ductless system, it's likely that it's already started to experience damage from whatever it is that's affecting the system. If you want to protect your ductless system as much as possible, you need to try and catch problems before they develop that far. That means scheduling preventive maintenance.
A maintenance appointment can reduce the odds of something serious damaging your ductless system by up to 90%, and increase its energy efficiency by up to 40%. if you want those benefits, though, you're going to need to schedule maintenance with a certain level of consistency. Which brings us to our next point…
Why Ductless Mini Splits Need Maintenance More Often Than Most
Most climate control systems need maintenance only once a year to stay in top condition. This is because they are only heavily used during one season out of the year. Ductless systems, like all heat pumps, are used year round as both heating and air conditioning systems. This doubles the amount of strain the system is put under, making it more likely to break down if it doesn't receive maintenance more often.
Ideally, you should be scheduling maintenance once during the spring season and once during the fall. This will keep your system pretty well covered throughout the year. If you miss one of those maintenance windows, don't worry too much about it. Just make sure you schedule an appointment to have it checked out as quickly as possible. it's better to have it done later than not to have it done at all.
DB Heating & Cooling, Inc. offers a full range of ductless mini split services in Franklin Lakes, NJ. If you haven't had your ductless system checked out in a while, contact us today to schedule an appointment with one of our technicians. We'll make sure your ductless system stays as healthy as possible.