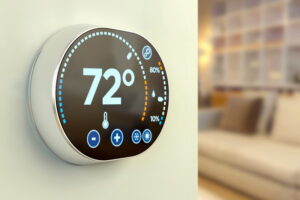 "Smart homes" have become quite the catchphrase. "Smart" devices have grown increasingly popular in recent years, granting us everything from iPhones and smartwatches to even smart coffee makers. Modern technology has made operating our households much more convenient and efficient. And then there are smart thermostats, which are changing the way in which homeowners are able to interact with their HVAC systems, improving their efficiency and lowering their monthly utility costs.
Too often, folks hold onto their old, outdated thermostats for years before considering an upgrade. But we're here to tell you that replacing your thermostat with a smart model can give your heating and cooling systems the boost they've long been needing. Read on as we outline a few of the reasons you should consider the installation of a smart thermostat.
Temperature Accuracy
A manual thermostat is the type of thermostat you set manually, by using a dial or sliding switch. Oftentimes with these thermostats, it can be difficult to see where the numbers line up. These small markings on the thermostat don't always represent a truly accurate temperature reading, making it hard for you to get precision cooling or heating.
When the temperature on your thermostat doesn't match the actual temperature in the living space, you can try to adjust it to compensate, but may find yourself frustrated as it now gets too cool, and makes your air conditioner run longer. This puts a lot of strain on the system!
However, the installation of a smart thermostat, with a digital, easy-to-read display, can resolve this, making it so you'll never question whether the temperature reading is correct or not again.
Easy Programming
Outdated thermostats like the manual ones we just mentioned lack the programming that a smart thermostat has, or even that a basic digital thermostat can have! You may be wondering why your thermostat needs programming. Well, this feature makes it so you'll never forget to adjust the temperature when you go to bed at night or when you're not home during the day.
This might not seem like a big deal, but setting an appropriate, comfortable temperature (typically 78°F) is important. This is the temperature that most people are comfortable at, and lowering your air conditioner's thermostat any lower will simply make it run longer and waste energy.
Wi-Fi Capabilities
Some smart thermostats are actually Wi-Fi thermostats, connecting to the wireless internet in your home and enabling you to access your system from anywhere so long as you have a mobile device and an internet connection. Even if you are at work and realize you forgot to adjust the thermostat before you left the house, you can do it right from your smartphone in your office or in your parked car!
DB Heating & Cooling, Inc serves the heating and cooling needs of customers throughout Rockland County, NY as well as Bergen County, NJ and surrounding communities. You can count on us for expert services. Contact us today for quality Waldwick, NJ smart thermostat services and more!