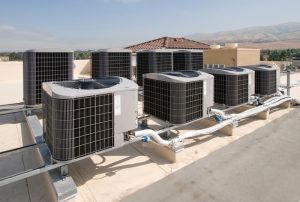 Would you trust someone who builds toy cars for a living to perform mechanical repairs on your vehicle? If not, then you probably shouldn't trust any standard handyman or residential-only HVAC technician for your Ramsey, NJ commercial HVAC services.
No matter what type of business or commercial space you run, it's your responsibility to ensure that everyone who enters that property is comfortable doing so, throughout the year. This means having a professionally installed commercial HVAC system in place, and having that system serviced by professionals with experience in the commercial realm.
Repairs Are Imminent
It's important to remember that no matter how well maintained and cared for your commercial HVAC system is, it is going to at some point need repairs. When that time comes, you'll want an experienced team on your side. But how do you know if you do in fact need commercial HVAC repairs?
Uneven Heating or Cooling: This is typically indicative of a problem with your zoning equipment, ductwork, or the HVAC unit itself. Chances are that you use zone-control heating and cooling in your business, so this problem may be as simple as a stuck damper or a clogged air filter.
Increase in Monthly Costs: If you notice a sudden spike in your energy bills but haven't changed the building's cooling or heating habits in a significant way, then you may have trouble brewing. There are a number of reasons this might occur, but no matter what, we recommend contacting a professional about this problem.
Rapidly Shutting Off and On: This process is called short-cycling, and most often occurs when an HVAC system was not appropriately sized for the building in the first place, upon installation. However, if this is your first time experiencing this problem then there may be something operational going on with your system.
Only Trust Professionals
As we mentioned above—and honestly, we have nothing against toymakers—you probably wouldn't want to trust someone who works on toy cars for a living to work on your vehicle, unless they had the proper training and expertise to do so.
When it comes to choosing professionals to conduct repairs on your commercial HVAC system, you want a team that has the specific expertise needed for the job. That is, if you want to rely on a job done right. It's okay if the company handles residential HVAC services, but they should also specialize in commercial services. In the long run this will give you a peace of mind, and save you money as you won't have to pay to have someone else come out and fix a shoddy installation or some other service.
Lastly, hiring professionals who specialize in commercial HVAC services ensures that your system will get back up and running as soon as possible. We understand the importance of having as little business interruption as possible!
At DB Heating & Cooling, Inc, we serve the heating and cooling needs of customers throughout Rockland County, NY as well as Bergen County, NJ and surrounding communities. You can count on us for expert services. Contact us today!