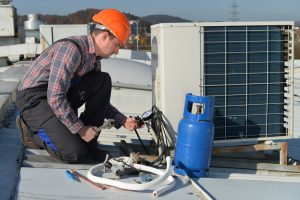 Whether you are a residential or commercial customer with us—or both—this is the time of year that we heavily promote how essential HVAC maintenance is to the performance of your cooling system. Preparing for the inevitable warm weather ahead with a thorough inspection and tune-up is the best way to avoid repair issues, energy waste, and—for our commercial clients—a severe business interruption due to a broken down system.
Franklin Lakes, NJ professional commercial HVAC services are a necessity for the convenience and comfort of your employees, customers, clients, and/or tenancies. Maintenance is also vital in protecting your HVAC equipment from overheating. Where a homeowner only needs to worry about the comfort of a few people, and maybe a minor inconvenience for the property, a business or commercial property owner must concern themselves with the comfort of many.
When Did You Last Schedule Commercial HVAC Maintenance?
We understand how much responsibility there is in owning a business or running a commercial space—after all, we do it too! You understandably have a lot to deal with every day, and can be easy to allow scheduling preventive maintenance for your cooling system(s) to slip by you. However, when you sign up with our maintenance program, we'll ensure that the service is done routinely—once a year, or twice a year if you have a commercial heat pump system.
Spring maintenance is generally about a 1-2 hour job, and comes with many benefits. This sure beats days of a business interruption if your commercial cooling system breaks down on you during a hot summer day! There are a number of tasks that are completed during this service including:
Checking and Changing Air Filters (This should actually be done every few months—we don't recommend waiting for your yearly maintenance appointment as too much damage can accumulate in your system.)
Lubricating all moving parts to reduce system stress.
Inspecting the systems' operation to ensure safety and functionality.
Tightening all electrical connections.
Checking on refrigerant levels (If there has been refrigerant loss, it means you have a leak. The source must be found and the refrigerant line repaired.)
Cleaning both the outdoor and indoor coils to ensure proper cooling operation.
Calibrating the thermostat to improve temperature precision.
Testing the performance of the system.
Thoroughly checking the area surrounding the outdoor and/or rooftop units to ensure there are no obstructions that may impact system performance.
If our professionals encounter any area where your commercial HVAC system needs repairs to prevent further problems or a drop in performance, we will inform you and help arrange for the necessary fixes in time to beat the worst of the summer heat. For instance, if a refrigerant leak is noticed, we can arrange to have the refrigerant line sealed where it needs to be.
The Benefits of Maintenance
In addition to ensuring the proper operation of your commercial HVAC system, scheduling routine maintenance helps to improve system efficiency (and subsequently lower your property's energy costs), improve the system lifespan, and reduce repair needs.
If maintenance is skipped, it's more likely that a small repair need won't show any outwardly signs of problems until it's become so advanced that the only thing you can do is shell out hundreds of dollars to fix. Maintenance can help you avoid this, improving your commercial property or businesses' bottom line.
At DB Heating & Cooling, Inc, we serve the heating and cooling needs of customers throughout Rockland County, NY as well as Bergen County, NJ and surrounding communities. You can count on us for expert services. Contact us today!