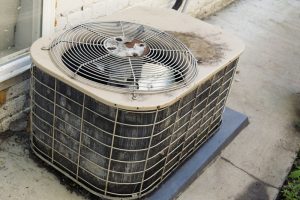 Are you wondering if it's about time to replace your air conditioner? If you're at this point, chances are it couldn't hurt. You'll have a lot of considerations to make—do you want the same type of system? Perhaps you want to get rid of the ductwork in your attic and have a ductless HVAC system installed instead. Or maybe you want to switch out your central AC and furnace for a year-round heat pump.
Regardless of what you decide, we are your trusted resource for professional air conditioning services. In the meantime, we encourage you to think about the signs your air conditioner is showing that might indicate it's ready for an upgrade. We've highlighted some of the main ones below.
Your Air Conditioner Is Old
No machine or important appliance lasts forever, and unfortunately your air conditioner is no exception to this rule. Sure, routine maintenance will help get it through its entire lifespan. But, air conditioners are designed to last about 10–15 years. If yours is older than 15 years, that alone may be a good enough reason to start considering an AC replacement and upgrade.
Your Cooling Bills Are Too High
We get it, this is a bit subjective. What's "too high?"
Well, compare your current bills to your energy bills this time last year. How different are they? There shouldn't be a huge discrepancy. We'd also encourage you to talk to your neighbors to see how much they're paying comparatively. If you're paying much more than them, it can be a sign that your cooling system is no longer working efficiently, and it could be time for a new one.
Your Repair Needs Are Frequent and Costly
It's okay if you need a repair every now and then. In fact, it's not rare for an AC system to need a component replaced or fixed once every few years. You should be worried, however, if you're making repair calls a few times each year.
At some point, you'll need to decide if it makes more economical sense to get repairs done, or to replace the system entirely. As a general rule of thumb, if your next repair or set of repairs is going to cost you more than what the system is worth, then it's almost always a good idea to replace it.
You Want a High Efficiency System!
Sometimes, the only reason you need to upgrade to a new air conditioner is because you want to. As we mentioned above, you may decide you don't want to deal with ductwork anymore. This means it would be a good idea to consider a ductless system.
Or perhaps your furnace is about ready to call it quits and you want something that heats more efficiently. A heat pump makes a great option, as it serves as both a heater and air conditioner. Whatever you decide, our team is here to help.
DB Heating & Cooling, Inc serves the heating and cooling needs of customers throughout Rockland County, NY as well as Bergen County, NJ and the surrounding communities. You can count on us for expert services. Contact us today!