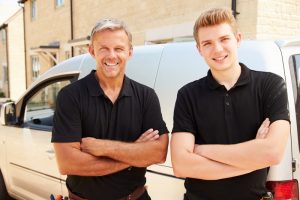 It's that time of the year! There are two seasons where HVAC contractors are busiest—winter and summer. With summer here, it's the most common time for us to get called for urgent HVAC service in Bergen County, NJ, or even a "quick" replacement. As the temperatures rise, it's inevitable that homeowners will run into equipment failures—at least, if their systems are aging or haven't been properly maintained.
That said, we understand the urgency when something goes wrong with your cooling system. You want help and you want help now—so, you choose the most immediately available HVAC professional and/or the most affordable one. This can end up costing you more in the end, though.
So, How Can I Choose the Right HVAC Contractor?
Whether you need quick service, or you just have a potential repair need that you'd like to have inspected before it has a chance to turn into something bigger, we have the 411 on just how to choose the right HVAC contractor for work on your cooling system. Here are some factors to look for:
Years of Experience
Homeowners are often quick to call in any "handyman" with minimal experience in mechanical and electrical work to work on their air conditioner, because it's easy and cheap. However, the phrase, "you get what you paid for," has a place here. Complex heating and cooling equipment is hard for even a skilled generalist to manager, and you'll most likely have to end up calling in an experienced professional anyway if and when something goes awry.
In addition, and honestly most importantly, safety comes first. The only type of HVAC pro who can ensure safety is one who's been thoroughly trained by a qualified HVAC contractor. You can absolutely count on this when you work with an experienced professional such as the technicians on our staff.
Comprehensive HVAC Services
There are some heating and cooling professionals out there who specialize in one thing or the other—sales, or service. This is fine, but there are advantages to choosing a contractor who offers both installation and repair.
Without this, you could end up with a quality system, but improper installation and/or maintenance from another company that doesn't help your AC hold up its performance. Therefore, you could find yourself with a very inefficient air conditioner and/or a premature system replacement.
A lot of different problems can impact an air conditioner—even with professional installation and maintenance. There are a few different symptoms that could show up with different diagnoses. For instance, short-cycling could occur if your air conditioner was incorrectly sized upon installation, or it could be the sign of an electrical problem.
You don't want to contact a company who only does installations if it's actually a repair issue, but you don't want to contact one who only does repairs if it was actually an installation error. The hassle isn't worth it—get in contact with a team who offers it all!
DB Heating & Cooling, Inc serves the heating and cooling needs of customers throughout Rockland County, NY as well as Bergen County, NJ and surrounding communities. You can count on us for expert services. Contact us today!