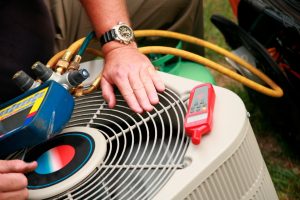 Summer is here, but it's not too late to make sure that your air conditioner is ready for the season. If you haven't already scheduled preventive maintenance, you should do it as soon as possible! Preventive maintenance is the single best way to make sure that your air conditioner can cope with whatever the summer can throw at it. Read on to find out more about why air conditioning maintenance is so important for the health of your system.
Catching Problems Early
It's generally not a good idea to wait for problems to present symptoms before calling for repairs. This is because most air conditioning problems aren't going to present any symptoms until they've had plenty of time to develop and damage the system. You can't prevent your air conditioner from wearing down over time, but if you want to limit the damage it receives as much as possible you're going to need to catch problems before they start presenting symptoms. That means scheduling preventive maintenance.
Preventive maintenance appointments involve close inspection of your entire air conditioner, allowing your technician to find and repair any developing issues before they can develop very far. Doing this on a consistent basis will improve the system's energy efficiency, lessen the chances of serious problems developing in the future, and even extend the life of the system by a number of years (if you're lucky). You need to make sure that you schedule it often enough, though.
Why Now is Ideal for Scheduling Preventive Maintenance
Well, now isn't really ideal for scheduling preventive maintenance. That was during the spring season, because spring maintenance ensures that the air conditioner is in the best possible condition before it's put under the most strain out of the year. However, early summer is still much better for maintenance than most other times of the year. You should aim to have the system checked out and tuned-up before it gets into the hottest part of summer, so that you can benefit from the increased energy efficiency of the system. Your air conditioner will also be less likely to break down during the summer if you make sure that it gets maintenance before it's being used too heavily.
So, if you haven't had your air conditioner professionally tuned-up yet this year, you should get it done as soon as possible. Your air conditioner will serve you better, you'll save money, and you won't have to worry about the system suddenly breaking down on you when you need it the most. Schedule preventive maintenance for your system every spring to ensure that it gets the most out of your appointments. For now, though, early summer maintenance will be more than good enough.
DB Heating & Cooling, Inc. offers a full range of central air conditioning services in Bergen County, NJ. If you need help preparing your air conditioner for the summer season, contact us today to schedule an appointment with one of our professional technicians. We'll make sure that you get the most out of your system this summer.