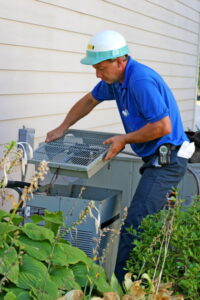 The summer weather is already starting, but we all know that the extreme temperatures aren't here yet. If you have the suspicion that it's time to replace your old AC and schedule a new air conditioning installation in Bergen County, NY, you have a short window to get the job done. Or, specifically, to call our technicians to get the job done.
First, you want to make sure that this is the best choice. Is your current air conditioning system at the end of its service life, or will regular maintenance and repairs keep it working effectively and efficiently for this summer and a few more after it?
Let's approach this by having you answer a few questions about your air conditioning system.
How old is the AC?
If you don't know the manufacturer date of your air conditioner, check on the condenser cabinet. The average service life of a central AC is 10–15 years, and if your air conditioner is at or above this range, then a replacement is in the near future, if not now.
How regularly has the AC received maintenance?
Be honest! An air conditioner should have professional maintenance once a year, preferably in spring. If you've skipped a few years, then subtract 1–2 years from the service life estimate. If you've only occasionally (or never) had it maintained, then the AC may already need a replacement at 8 years.
Have cooling costs remained reasonably steady over the past few seasons?
One of the major signs of an air conditioner that's in major decline is when it starts to cost much more to run than before. If your cooling costs in the summer haven't seen any significant jump, just some fluctuations, that's a big checkmark in the positive column for keeping it. But if you're paying far more than you once did, and a repair won't correct it, it's better to get a new AC.
How often has the AC needed repairs over the past few years?
An air conditioner that receives regular maintenance will rarely need to have repairs done until the last 1–2 years of its service life. You shouldn't need to have the AC repaired every year, and definitely not more than once a year. If this is the case, you're spending money on fixes that should go to a new air conditioner.
How much do repairs cost?
When your AC needs to have a repair, the technician will give you an estimate. You can use the estimate to determine if the job is worth it: multiply the cost of the repair by the age of the AC in years. If the result is greater than 5,000, it's too costly a repair on too old a system to be worth it. Another rule of thumb is that you shouldn't pay for a repair that's more than 50% of the cost of installing a new system.
DB Heating & Cooling, Inc serves the heating and cooling needs of customers throughout Rockland County, NY as well as Bergen County, NJ and surrounding communities. You can count on us for expert services. Contact us today!