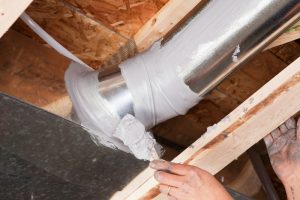 Have you ever invested in duct testing before? Did you know duct testing was actually a necessary service? Duct testing helps our technicians discover where and how you might be having inefficiencies and indoor air quality problems in your home. For instance, we might find that you have a tear or loose joints that are leaking conditioned air into unoccupied spaces. This not only leads to inefficient HVAC performance, but can introduce allergens and contaminants into your living space.
Before you start worrying about the costs of duct replacement though, know that there's another solution! Professional duct sealing. No, we aren't just going to slap some duct tape on your air ducts and call it a day–in fact duct tape isn't even appropriately named and shouldn't be used for this purpose at all, ironically. Read on to learn more, including the 4 main benefits of duct sealing!
Should You Invest in Duct Sealing?
The ultimate advantage of professional duct sealing is that it helps you save money. When your ductwork is in good shape, you'll be able to avoid air leakage, saving energy in the meantime since your HVAC systems will be able to work as efficiently as possible. Duct sealing also:
1. Improves Indoor Air Quality
As we alluded to above, there are a number of pollutants that could enter your home's air through ductwork tears or breaches. This can include pollen, dust, dirt, and even more harmful products like household and landscaping fumes, insulation particles, and other contaminants. Duct sealing won't allow this to happen.
2. Increases Home Safety
This refers mostly to the wintertime when you're likely to be using a gas-powered heating system. Combustion gases exit your home thanks in part to your ventilation system. If you have a ductwork breach, a process called backdrafting can occur, which is when gases get drawn back into the living space rather than being expelled outdoors.
3. Helps the Environment
By reducing the amount of energy necessary to comfortably heat or cool your living space, you reduce the amount of air pollution generated and therefore contribute to a more eco-friendly environment.
4. Improves Your Comfort
Let's not forget your comfort! Your climate control systems are literally there to improve your home comfort. When your air ducts are in bad shape, they can introduce inefficiencies and air quality problems that will absolutely threaten this.
Professional duct sealing, and ensuring your ducts are properly insulated, will do a lot to improve your comfort. This includes making sure no rooms are left too cold in the winter or too hot in the summer. If you're ready to learn more or to see what other services can help improve energy efficiency and your comfort, please don't hesitate to give our team a call.
DB Heating & Cooling, Inc serves the heating and cooling needs of customers throughout Rockland County, NY as well as Bergen County, NJ and surrounding communities. You can count on us for expert duct testing in Bergen County, NJ and much more.
Contact us today!