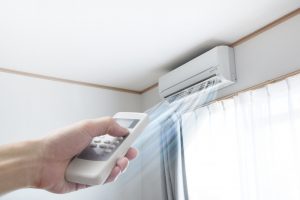 When it comes time for you to choose a new heating or cooling system for your home, there are a number of options to choose from. To ensure that it operates as efficiently and effectively as it should for as long as possible, you want to make sure you work with technicians who specialize in thorough and reliable HVAC service in Bergen County, NJ.
This is true for any HVAC service you need, but especially if that next installation is going to be a ductless heating system.
Also used for cooling purposes, ductless mini-splits operate without the use of ductwork. They are comprised of a single outdoor unit and up to 4 indoor air handlers, which are all mounted up high on the wall in the room they're installed in. They're connected to the outdoor unit via a conduit containing a power line, refrigerant line, and condensate line.
Sounds simple enough, right? Well, if you've ever scheduled HVAC service, you know that these are complex pieces of machinery, and the ductless system is no exception! Read on to learn more.
The Unique Needs of a Ductless System
There are a number of benefits to using a ductless system for your heating and air conditioning needs, but there are also unique qualities. They aren't bad qualities, but factors that can have a heavy impact on your home if your system is not professionally installed and services. These qualities can lead to some repair needs you wouldn't necessarily ever need to deal with, with any other type of HVAC system. They include:
Water Leaks Behind Your Air Handlers: Each of the wall-mounted air handler units houses a series of connections in a conduit, as we mentioned above. Each conduit is routed through a small hole we drill in your wall. The condensate line is part of this, and it's responsible for removing water moisture from the cooling process so moisture doesn't enter your living space.
This line can leak, however. And when water or any other type of fluid starts to develop between the air handler and the wall, naturally the material of that wall will begin to weaken, until eventually the air handler will rip from the wall and probably fall off. Of course, this damages your property—and it also likely damages the air handler, too!
Broken Air Handlers: This brings us to our next point—though strangely enough, this is also sort of a benefit of ductless systems. The bad news is, of course, a broken air handler means you won't get any heating or cooling sent into that particular room. The good news, though, is that if a single air handler breaks down due to a failed motor or some other issue, the remaining air handlers throughout your space will still operate.
The only portion of your home that loses out on conditioned air, in this case, is the one that has the broken air handlers. You'll still want to call for professional repairs, but at least you don't need to worry about your entire home losing out on comfort just because of one air handler.
One way to reduce the chances that you'll ever run into either of these unique ductless repair needs is by scheduling your installation with a trained and experienced team, such as ours!
DB Heating & Cooling, Inc serves the heating and cooling needs of customers throughout Rockland County, NY as well as Bergen County, NJ and surrounding communities. You can count on us for expert services. Contact us today.