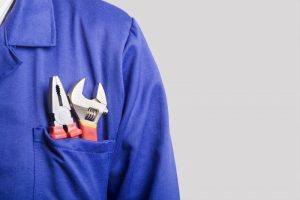 There are probably plenty of people out there who would be willing to service your heater, or any other home comfort appliance in your house, but that doesn't mean they should. Many general handymen (and women) out there don't actually have much experience specifically in the HVAC industry, and therefore will be learning by using your system as an example—which isn't a comfortable feeling when you consider how cold our winters get. Do you really want your heater to be a guinea pig?
Fortunately, there are plenty of qualified HVAC contractors out there. But how do you find them? What qualities do you look for? The obvious answer is "someone with a lot of training and experience," but we'd like to take it a step beyond that and offer you some guidance on exactly what qualities we think you should use to hire your next heating professional.
They Provide Comprehensive Services
We think it's essential to your home efficiency that you work with a contractor offering every service you may need over the years. Right now, for instance, you may only be looking for an installer. In the future, however, you'll need to have your HVAC system professionally maintained. And it's inevitable that you will need a repair, and, someday, even a replacement system. It's far better to find trusted technicians now so you can reach out whenever you need them.
Find service pros who can install and service your equipment, and who you will want to work with again when the time comes. They should also provide indoor air quality services and systems, as getting the right HVAC system is only half the battle in achieving true indoor comfort.
The Right Licensing and Commitment to Customer Satisfaction
It's never wrong to ask a professional for their credentials. Your HVAC professional should be licensed to work in your state. They should also be able to show you what they can do and help you make an educated decision when it comes to choosing your next heating system or any other home comfort device.
They Provide Emergency Services
Have you ever heard of an HVAC or indoor air quality problem that happens at a convenient time? Yeah, neither have we. When you need heating services, or cooling services for that matter, in the middle of the night, you need to be able to get in touch with someone quickly. This is particularly true if you have anyone who is medically fragile in your home, such as an elderly individual or a newborn baby.
They Offer a Solid Maintenance Plan
This means that your HVAC contractor does more than simply schedule maintenance appointments—they offer benefits to their maintenance members. This can include priority service, discounts on parts and labor, and even discounts on diagnostic fees. Ask about our heating maintenance plan membership. We offer all this and more!
For trustworthy and timely HVAC service, look no further than DB Heating & Cooling, Inc. We serve the heating and cooling needs of customers throughout Rockland County, NY as well as Bergen County, NJ and surrounding communities. You can count on us for expert services. Contact us today!