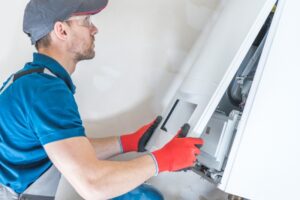 So it's time for you to replace your current heating system. You're considering a new furnace, but is gas the best choice for your fuel source, or should you go with an electric furnace? We can't answer this definitively for you without hearing more about your specific needs and seeing your home, but we can certainly help you make an informed decision! Both furnace types have their pros and cons, and there are many factors to consider with both types.
There's no such thing as one perfect furnace for every household–every furnace will need routine maintenance and occasional repairs. But we'll explore below some of the benefits of furnaces, both gas and electric. Please don't hesitate to reach out to our team for further information about either.
Let's Talk Heat Distribution
Homeowners often wonder if there's a big difference in heat distribution between an electric or gas-powered furnace. And no, there isn't. Once the air is heated by the heat exchanger–either electric or filled with combustion gas–you'll have heated air distributed throughout your living space via a system of air ducts.
So this is one factor you don't need to worry about when making the choice between a gas or electric furnace. So long as your heating system is properly sized and matched to your specific home, heat distribution should never be a problem with either fuel source.
Next, Let's Talk Efficiency
Homeowners often equate the word "efficient" with "affordable." And it's true, if your heating system is working inefficiently, it's probably costing you more than it should to run. However, a high-efficiency electric heater can still cost you more than a high-efficiency gas furnace, and this is because electricity is a more expensive fuel source. Does this mean that it's less efficient than a gas-powered system?
No, actually! The thing is, when you're using an electric furnace, you don't lose any heat to flue gases. This means the system is working at nearly 100% efficiency. But again, you still might pay more month to month for that efficiency.
While we're on the topic of what you're paying, however, the installation and initial purchase of an electric furnace is often less than that of a gas-powered furnace, especially if any alterations have to be made to accommodate a gas-powered system.
Lastly, Let's Talk Versatility
Electricity is a necessary commodity in modern homes, needed for lighting, your air conditioning system, refrigeration, and much more. This makes an electric furnace more versatile, as not every home has access to the municipal gas line. But if you don't want to pay that much for your utilities, you could do well to consider a gas-powered system. After all, your HVAC use accounts for half of all the energy use in your home, it makes sense if you want to pay less for using your furnace!
DB Heating & Cooling, Inc serves the heating and cooling needs of customers throughout Rockland County, NY as well as Bergen County, NJ and surrounding communities. You can count on us for expert services. Contact us today for expert Oradell, NJ furnace services!