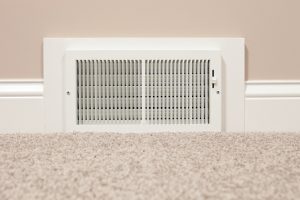 Wouldn't it be nice if you could completely avoid the need for furnace repair? We wish this was the case, but really the only way of doing that would be to buy a new heating system every time you had a problem, and well, that's just impractical.
The truth is, even if you take care of your furnace as best you can, you'll eventually encounter a problem. The best thing you can do for your furnace is learn to recognize the signs that something is amiss, so you can get out ahead of them and schedule your heating repairs right away before the problem has a chance to grow into something bigger. One of the most common heating repair calls we receive is about cold air coming from the vents.
What's Going On with Your Furnace?
We want to start by saying that sometimes, what you're describing as "cold" air may actually be low airflow, so that's what we are going to focus on today (however, cold air coming from a heat pump could mean your heat pump hasn't switched modes—more on that below!)
Fixing airflow issues promptly is a high priority, particularly if you're using a gas furnace. The reason we say this is that whatever is causing your gas furnace airflow problems can lead to potentially hazardous situations such as overheating or carbon monoxide leaks. That being said, what causes this issue?
A clogged air filter: This can certainly be the culprit. The good news is, however, that changing your air filter is a simple task that you can (and should) do on your own every 1–3 months during periods of use.
Damaged or obstructed ducts: Your HVAC system's ductwork transfer air throughout your home, and this portion of your system takes up half of the entire heater (or air conditioner). So if these ducts have leaks, the results can be detrimental—and you'll certainly notice low airflow, or what feels like lukewarm air, coming from your vents.
Poorly sized ductwork: This sort of goes along with our previous tip, except that this tends to happen when air ducts aren't properly installed to begin with. The fact is, if your ductwork is too big or too small for your furnace or heat pump, you can run into a number of problems with airflow and heater damage.
A broken blower: This component is a fan that blows heated air through your ductwork. If the blower has broken down, this air won't have any momentum, and you won't feel it coming out the other end.
Heat Pumps Can Have This Problem, Too
The cold air/low airflow problem is not just unique to furnaces—heat pumps can have this issue too, as we mentioned above. Due to the nature of how a heat pump operates in heating mode, there are some unique problems that can manifest with such a system. The following are common causes of low airflow or cold air coming from heat pump vents:
It's in defrost cycle: The good news is that this isn't actually a heat pump problem. It simply means it's doing its job!
You have a refrigerant leak: The appeal of heat pump systems for many homeowners in our area is that they are two-in-one systems. This means they can be used as an air conditioner and a heater, just as effectively. This also means there is refrigerant in the system, and a leak can be detrimental.
DB Heating & Cooling, Inc serves the heating and cooling needs of customers throughout Rockland County, NY as well as Bergen County, NJ and the surrounding communities. You can count on us for expert services. Contact us today!