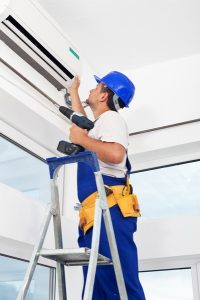 We're coming to the end of winter in a few weeks, which may seem like an odd time to consider replacing your heating system. Still, if you have reason to believe that your current system just isn't up to the task of keeping you warm for another season, now might be a good time to install a new one. That way, you don't have to scramble to find one at the same time as everyone else!
There are a lot of different home heating options available on the market, but today we're going to focus on a specific one. Let's take a look at ductless mini splits, and what one can do for you during the winter season.
Ductless Systems
If you haven't heard of a ductless system before, there are a couple different things you should know. First, ductless systems are not combustion-based heaters. They are heat pumps, which means they use refrigerant to absorb thermal energy from outside the home and release it inside. Like all heat pumps, ductless mini splits are able to act as both heating and air conditioning systems. Unlike most other systems, a ductless mini split is not centralized. Rather than having a single body that pumps air through the home by way of a duct network, ductless systems are comprised of a single outdoor unit with up to four indoor air handlers attached to it.
Advantages of Using a Ductless System
Ductless mini splits have a lot of different advantages to offer homeowners who install them. First, they are much more energy efficient than the average heating system. This is because they allow you to choose which rooms in your home receive heat. Each air handler is installed in a room, and has its own thermostat that allows it to operate separately from the rest of the system. You don't have to worry about wasting energy heating empty rooms, which can save you quite a lot of money if you use it right. Ductless mini splits also don't burn fuel to generate heat, which makes them quite energy efficient in areas where natural gas is more expensive.
A Note on Installation and Maintenance
There are two things you should know before you make plans to install a ductless system. The first is that most homes are not already equipped to accommodate ductless mini splits, which means a bit of extra construction work is required to install one. The second thing you should know is that ductless systems, like all heat pumps, need maintenance twice a year in order to stay in good shape. This is because they're used as both heating and air conditioning systems, which means they wear out twice as quickly as other systems do. If you have a professional contractor you can trust working on your ductless system for you, though, neither of these considerations should pose any problems.
DB Heating & Cooling, Inc. provides comprehensive ductless system installation services in Bergen County, NJ. If you need a new ductless system installed, contact us today to set up an appointment with one of our technicians.