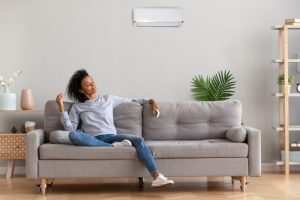 There are a number of things you can do this summer that will cost you next to nothing in order to boost your air conditioner's efficiency and lower your cooling bills.
For instance, closing your blinds and shades on south-facing windows helps you keep your home cooler longer so your air conditioner doesn't cycle on as early in the day. Using a ceiling fan in combination with your AC helps the room feel cooler so you can turn the thermostat up a couple of degrees.
We could go on about different methods to boost air conditioning efficiency, but what we're here to talk about today is what not to do, if you want an efficient cooling system. And what you shouldn't do is avoid these signs of repair needs!
Sign #1: Your Living Space Isn't Staying Cool
Sure, this seems like a pretty apparent sign that something is amiss with your air conditioner. But there are a surprising number of homeowners who wait to deal with this problem–chalking it up to higher temperatures in the height of summer making it harder for the air conditioner to keep you cool.
And it's true, your air conditioner only has the capability to lower the temperature of your home about 20 degrees below what the temperature outside is. However, outside of extreme summer temperatures, your air conditioner should be able to do the job of keeping you cool–that's what it is designed for!
If you find that your cooling system is struggling more than it did this same time last year, it's a sign that something serious is causing the struggle. You'll find yourself paying higher energy bills and losing out on comfort in the meantime–which brings us to sign #2.
Sign #2: Your Energy Bills Are Spiking
Do you dread receiving your energy bill during the cooling season? We get it–your HVAC systems account for about half of all energy use, so your air conditioning bill is not typically one we'd expect you to look forward to. And yes, it's going to be higher this time of the year.
But like we mentioned above, it shouldn't be dramatically higher than what you paid this time last year, particularly if you're using it pretty much the same amount of time. Another factor to compare what you're paying to is what your neighbors are paying for similar use.
Sign #3: You Hear Weird Noises
What's a weird noise, you ask? Anything outside of the normal hum of the fans, the whoosh of the air, and the regular cycling of your air conditioner as the compressor turns on and off should be alarming. You never want to hear grinding, hissing, banging, or clanging. These are all signs of an air conditioner in disrepair, and if you ignore these indicators you'll end up with not only an inefficient system, but probably a broken down one too!
These are just a few of the symptoms of an air conditioner that needs repair. If you feel that anything is out of the ordinary with your cooling system, please don't hesitate to give our team a call!
DB Heating & Cooling, Inc serves the heating and cooling needs of customers throughout Rockland County, NY as well as Bergen County, NJ and surrounding communities. Contact us today for quality Bergen County, NJ air conditioning services and more.