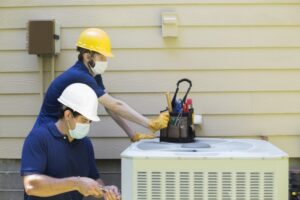 There aren't many things that HVAC professionals will tell you to do on your own when it comes to servicing your cooling system. And the fact of the matter is, for big repair needs, this is true, especially since there are various components of an HVAC system that professionals need special training and licensing for, such as the refrigerant in your air conditioner, or natural gas if we're talking about a heating system.
It is important that you only trust a professional for air conditioning maintenance–this is essential to the performance and efficiency of the cooling system. It enables our technicians to comprehensively inspect your cooling system for problems, anything that needs to be adjusted, and anything that needs to be cleaned within the system. It also lets us find repair needs that you may want to address ASAP to prevent them from turning into bigger problems later on.
But even though you do need a professional to keep your system in great shape, there are things you can do on your own to improve your air conditioner's efficiency, and therefore lower your energy bills each month. Read on to learn what they are!
Raise the Temperature Setting on the Thermostat
"Wait, do you want me to make it hotter in my home? During the summer?!"
No, no… hear us out!
We of course do not expect you to make it warmer than it needs to be in your home. But there is a good chance that you are turning your thermostat settings down much lower than you may actually need to in order to maintain comfort.
For example, some homeowners have their thermostat set as low as 71°F, when in actuality most people can stay perfectly comfortable at about 78°F throughout the day. In addition, you can save even more energy and subsequent money by raising the temperature when you aren't at home, or while you are sleeping.
There is no need to waste energy necessarily by cooling a home you aren't using, or by lowering the temperature far more than you actually need to.
Use Your Ceiling Fans!
Ceiling fans cannot lower the temperature of a room on their own. However, they can certainly help you feel cooler, by helping sweat evaporate from your body–our natural way of keeping cool. On a mild day, a ceiling fan can be sufficient to keep you cool and keep your bills lower, but on a warmer day when you need to use your air conditioner, ceiling fans can help by pushing cooled air down, and keeping warm air rising.
Therefore, using your ceiling fans in combination with your centralized air conditioning system enables you to run that air conditioner at a higher temperature, therefore lowering your monthly energy costs.
DB Heating & Cooling, Inc serves the heating and cooling needs of customers throughout Rockland County, NY as well as Bergen County, NJ and surrounding communities. You can count on us for expert services. Contact us today for exceptional air conditioning service!