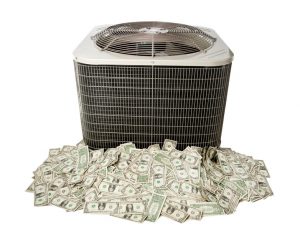 As spring progresses and our temperatures slowly but surely begin to warm, we're all beginning to enjoy the weather once again. Soon enough, it will get hot enough to warrant the daily use of a fully functional AC system—are you ready?
When that all-too-familiar heat and humidity comes our way, you want the peace of mind that your cooling system is able to handle whatever comes its way. So, if you discovered last year that yours is possibly about to call it quits, then now is the time to consider Mahwah, NJ air conditioning replacement services. But what will this cost?
AC Cost: Determining Factors
There really is no simple answer to this question—it depends on a variety of factors. For instance, the installation of a ductless system could potentially be more than that of a traditional central AC system. But, if you don't already have ductwork in your home then this adds complexity—and cost—to the installation project.
Our staff is ready and willing to help you decide what type of AC system best matches your specific home and needs. After this, however, there are a number of cost considerations.
How Efficient Will Your New System Be?
This is arguably one of the biggest contributor to air conditioning costs. Your AC system comes with a SEER (Seasonal Energy Efficiency Ratio) rating, and this tells you its level of efficiency. The lowest SEER on the market today is 14, and the highest is 20. The highest rated systems will run the best. However, you'll want to ensure that your AC system fits your comfort needs as well as your budget.
Do You Already Have Ductwork in Place?
If you already have a central furnace in place, or your new central AC system is replacing an old one, then you already have ductwork in place. How good of condition is it in, though? Were your air ducts installed by professionals? Have they accumulated any damage or loose connections? If you have conditioned air escaping through ductwork breaches, then your central air conditioner can't possibly perform effectively or efficiently, so ductwork damage will need to be repaired along with your installation—which will impact the overall cost.
How Big Is Your Home?
You need to make sure that the air conditioner in which you have installed is correctly sized for your home. If your cooling system isn't big enough, then it can't effectively cool your living space. But what if it's too big? Then it will go through a process called short-cycling, when it turns on and off rapidly, which is not efficient. Don't let an amateur HVAC technician try to convince you to go as big as your budget allows—this can be a very costly mistake.
Have You Checked Out Community Rebates?
Many times, communities and municipalities reimburse homeowners should they install high-efficiency systems and appliances. This is due to the fact that reduced energy usage helps the environment overall. Be sure to look into programs in your area.
At DB Heating & Cooling, Inc, we serve the heating and cooling needs of customers throughout Rockland County, NY as well as Bergen County, NJ and surrounding communities. You can count on us for expert services. Contact us today!