Daikin Ductless Mini Splits
Ductless mini split air conditioners are one of the most popular AC options on the market today for good reason. They offer a clean, safe alternative to window units, they are efficient in their energy use and they can be used in homes where ductwork isn't a realistic option.
DB Heating & Cooling offers a wide variety of Daikin ductless mini split air conditioning systems to all of our Bergen County area customers. If you're considering having a new mini split system installed, call us today and learn more about our products and services.

Daikin's Ductless Systems
Daikin has been making ductless mini split air conditioners for a long time, providing quality and design aesthetics in Japan where the technology has been hugely popular for decades. As it becomes more popular in the United States, they have enhanced their technology and now offer a number of quality mini–split solutions for different sized and styled homes.
The FTXG–E series offers a simple, sleek design with inverter technology for efficient operation and high performance. This system works well in both small and large rooms. The Ururu Sarara is another popular line from Daikin because it offers humidifying and drying functions to maximize home comfort year–round. The Ururu Sarara was the first in its class to offer these features.
Daikin's mini split air conditioners come in a variety of sizes and styles, including inverted and non–inverted units and they are all designed to be minimally invasive to the design of your house.
For those seeking multi–room cooling control, the Super Multi NX system or the Super Multi Plus both offer up to 4 indoor connections and available DC inverter power control for optimal efficiency. Developed more than 40 years ago and since enhanced to become one of the most efficient systems on the market, these multi–room solutions are a top seller from Daikin.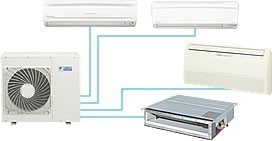 Daikin Mini Split System Options
If you are ready to upgrade your home's cooling system, contact DB Heating & Cooling to learn why we stand behind Daikin ductless split systems. Our goal is year–round home comfort for all of our Bergen County, NJ area customers, so we'd be happy to review your options with you and provide our professional recommendations for the type of ductless system that will work best in your home. Call us today to get started.