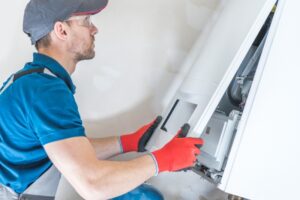 While it may not seem like it in recent weeks, winter is going to come to an end soon, giving way to warmer weather. But, since it is still cold for now, you're getting a lot of use out of your heater. Is it going to make it through the rest of the heating season?
The answer to this question is dependent on a few factors. First off, did you have it professionally maintained in the fall? If you did, you likely have nothing to worry about. If you didn't, and it's an aging system, you might be in trouble. You should definitely watch and listen for signs that your furnace is in need of repairs. Neglecting repair needs this late in the season can leave you with a completely broken down heater either this season or next fall when you go to use it again.
Give our team a call if you notice any of the following indications of a furnace in disrepair:
Loud or Unfamiliar Noises
Furnaces make noise. There is no getting around this fact. You'll hear things like the shifting of ductwork when the air starts blowing through it, and air coming through the vents. You may even hear a very gentle rattling which can also be your ductwork (though, we'd have that checked out if we were you—shifting ductwork can lead to damaged ductwork!)
What you shouldn't hear are any noises that are new, loud, or just odd. This can include shrieking, clanging, banging, and even clicking. Clicking as your furnace shuts down could be the sign of a cracked heat exchanger, which is not only harmful to the furnace itself but can become harmful to your health and safety due to potential carbon monoxide exposure.
Give us a call right away if you notice any of these sounds!
A Burning Smell
At the very beginning of the heating season, you might detect a very faint burning odor. This is typically indicative of dust burning off the jets and heat exchangers when you start the system up for the first time. The odor should dissipate in a few days, if not sooner.
If you're noticing a burning smell this late into the season, it's imperative that you have it checked out by a professional as it could mean you have electrical components smoldering or burning.
Higher Than Average Heating Bills
Look at your energy bills. Are they a lot higher than what you paid this same time last year, despite no obvious changes to your household? If you can, compare what you're paying to what your neighbors are paying as well. If there is a big discrepancy, then there is a good chance that something is causing your furnace to work inefficiently, and this should be checked out by our professionals.
These are just a few signs that your heater needs repair. You should also watch out for uneven heating or really anything that seems out of the ordinary for your furnace.
DB Heating & Cooling, Inc serves the heating and cooling needs of customers throughout Rockland County, NY as well as Bergen County, NJ and surrounding communities. You can count on us for expert services. Contact us today for professional Westwood, NJ furnace services!